So we're going to try something a little different with this, rather than doing several smaller articles throughout the week and potentially missing something, we're going to do one large article with several takes on everything that happened last week. Not everything may have a hot take, but the important thing is that everything did happen.
Let's start out with a personal favorite from this week: Carowinds released a POV video for their new attraction, Copperhead Strike, in its entirety. This ride has everything: two launches, massive amounts of hang time and enough inversions to last you a while. It will make it's grand opening when Carowinds opens for the season on March 23rd. This news is especially good if you're like me and need to have that moonshine themed roller coaster fix that had been missing since Thunder Road's closure.
SeaWorld announced the opening date of the new Sesame Street area of the park, with it setting to open on March 27th. This is also the day that Legoland Florida will open their new Lego Movie World area. Now this may be seen as SeaWorld being nervous about Legoland overtaking them as Orlando's premier, "Hey Disney and Universal are busy, where else should we go," park. But with the long history of Sesame Street and it's kid friendliness, it will be interesting to see the opening days for both parks and the attendance trends for them going forward.
Moving on to Universal, they announced that on March 12th, they will be reveling more information on their new roller coaster, "Hagrid's Magical Creatures Motorbike Adventure." This roller coaster promises to be a dark ride roller coaster and images have surfaced this week of an animatronic for Fluffy, the three headed dog from the first book/movie. It is also the ride with the worst name for a new attraction so far this year. It's incredibly long and doesn't flow well. Which hopefully the ride does the opposite of. Hagrid's Bike Ride opens up on June 13th.
The Epcot Flower and Garden Festival started last week. One of the more notable changes was that some of the topiary's got more detailed and some new ones debuted, including Bo Peep to promote Toy Story 4 and The Muppets because the people who work for Disney like to be cruel. But none story that came out of the opening of F&G than the Orange Bird sipper that was sold at one of the booths. Guests were lined up as early as 9 for an 11 opening and purchasing 10 at a time. It got to the point where the started limiting it to one person transaction. It also caused a frenzy on the ethics of sippy cup shaming, when one blog, WDWNT, posted an image of 13 sippy cups on one table. So let's continue to beat this dead horse and analyze it.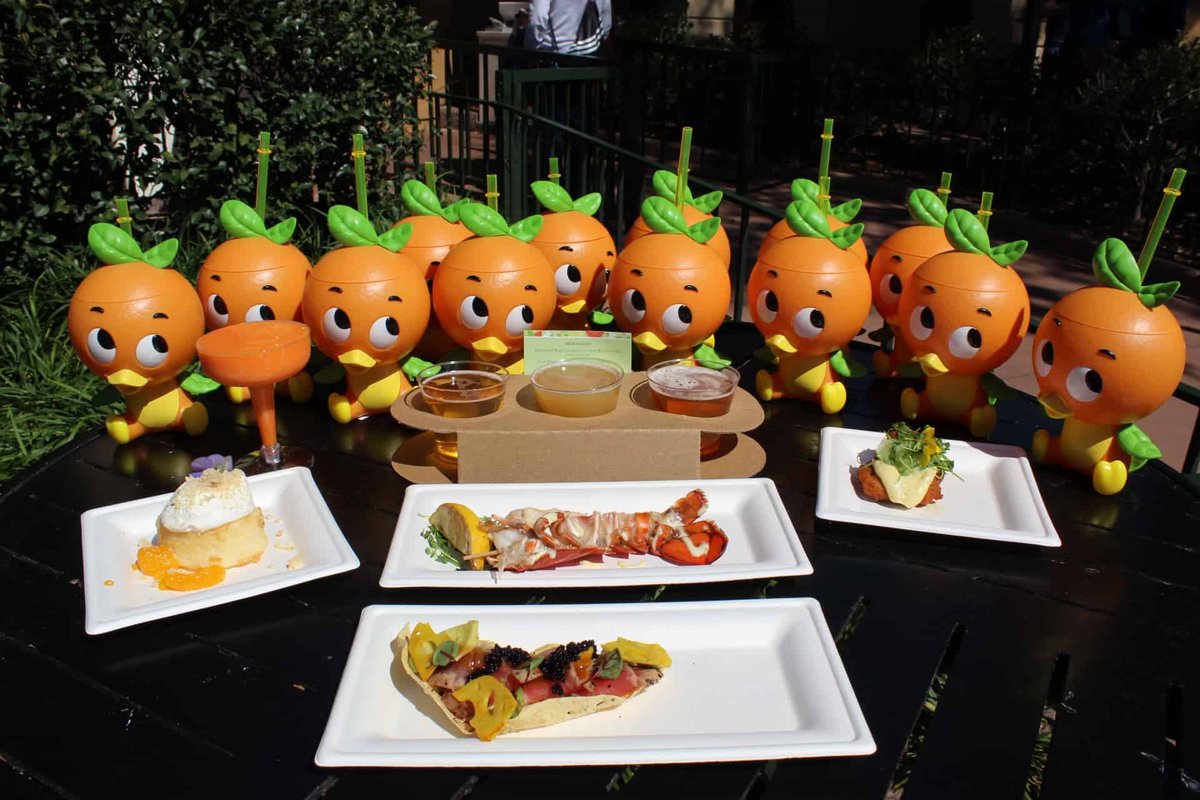 So let's get this out of the way. No, it is not okay to shame someone for purchasing the highest limit amount for an item. It is their money, they can do what the want with it. Do I agree with it, no. But it will not be my place to shame someone for purchasing so many. What we can shame for is getting 13 of one item that is highly sought after together for a picture and then being upset when people start complaining about you doing so. It puts the author in an interesting position, because it leaves it up to interpretation on what is fact or not. Based on the image alone with zero context, one could assume that someone bought 13 sippers and then one of everything else. So understandably so, people get upset given the rampant nature of reselling Disney items. But then the author came back and said that he ONLY bought 5, or 38%, of the total sippers shown and other people's sippers were shown. But at this point, the outrage had already started, because an image says more than any amount of words can. Yes, some comments were out of line and yes it is troublesome that we are shaming someone over a drink cup. But all of this could have been mitigated by just showing one or two. Why did 13 have to be shown? They didn't. What I interpret this as, is someone who is showing off. But if you're a news site you shouldn't have to show off. Just give the truth. And if the truth isn't in the image you show, then are you a news site?
But let's end on a much crazier note, the Disney shareholders meeting was held and we got a Death Star Schematic's worth of information on the new Star Wars expansion. We finally have an opening date for Galaxy's Edge for Disneyland and Hollywood Studios, or part of one. Disneyland's will open up May 31st and Hollywood Studios will open on August 29th, but without Rise of the Resistance. In an incredibly shocking move, Disney announced that both GE locations will open in phases, with phase 2 being sometime later in the year. Now a lot of people thought it was crazy or a cash grab. Having your biggest expansion open in phases could seem like trying to double dip on people already spending a lot of money to experience it. Not to mention, for Disneyland's opening, you can only enter GE if you are staying on Disneyland property and have a reservation from May 31st-June 23rd. So everything point to Disney wanting to ruin the guest experience. But as a lot of people have pointed out, this is not the first time Disney has opened something in phases. Earlier this decade, which is really weird to say, Disney opened New Fantasyland in phases with its marquee attraction not ready until two years after it opened. There were upset guests that a big ride wasn't opened, but they had other things to experience. While the reservation system for the first month at Disneyland is terrible, it does allow the DLR cast time to work through bigger issues and problems with less people, so when everyone can enter there are fewer problems. It is a high risk and high reward situation, but one I think will end up paying off for them.
And that was last week's news. Check back next week for more hot takes on things that happened. Unless it's a slow news week, then we make up pieces. Like is there a link between people who put leashes on their children and them growing up to become vegetarians? We may find out next week.